URBANA — 80 years from now, Illinois' climate may be unrecognizable. 
Summers could get a lot hotter, with temperatures reaching up to 114 degrees Fahrenheit in some areas. The state could see up to 150% more rainfall per year than it does currently, with more storms dumping more rain more frequently. Snow days would mostly turn to rain days and the number of days with below-freezing temperatures would decrease significantly.
That's all according to a new climate assessment from the Nature Conservancy. The report, released Tuesday, details how climate change is already impacting Illinois and lays out dire predictions for the future.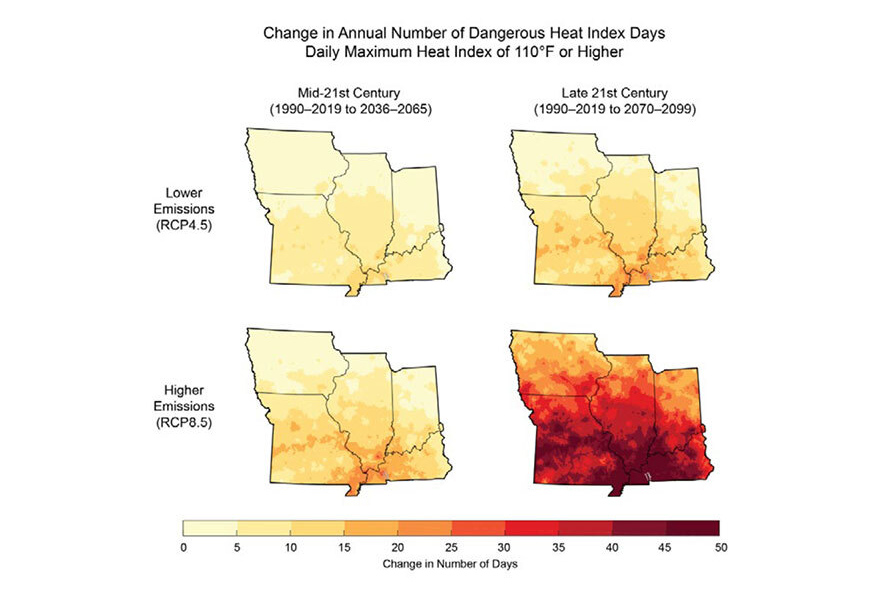 "This isn't just happening with wildfires in California or in Australia or major tornadoes hitting Alabama, it's happening here," says Donald Wuebbles, Harry E. Prebel Professor of Atmospheric Science at the University of Illinois and one of the study's lead authors. "Climate change is already having an impact on Illinois."
Most climate assessments are done at the national or international level. This Illinois-focused report is unique in its targeted approach. It provides a glimpse into the immense challenges the state faces in the not-so-distant future. 
The state's agriculture industry, for one, stands to lose a lot if greenhouse gas emissions aren't curbed, according to the report. Wuebbles, who grew up on a southern Illinois farm, says the past few years are a good indicator that worse is yet to come. Spring will be wetter and farmers are likely to see more intense flooding events like that of 2019, which could lead to delayed planting seasons. Summers are expected to get much hotter and drier, which could not only impact crops, but livestock, too. 
"I think there's a lot of things that need to be thought about in terms of adaptation," Wuebbles says. "It's just a lot of different small aspects that need to be thought through as we try to help the agricultural community think about this."
Jim Angel, former state climatologist and another lead author on the study, says farmers are already dealing with the impacts of climate change and will need to continue to adapt.
"If you start looking at the numbers, especially by the end of the century… it could be [a] pretty substantial challenge to deal with being able to keep production up at any kind of level that is acceptable," he says.
Angel, who also grew up in a farming family, says adaptation could look like shifting away from certain crop varieties altogether. Altering plant genetics to make them more drought tolerant can help, he says, but only to a certain extent.
"We've got people that know the biology of corn plants say, 'Well, we're maybe hitting some of the upper limits of what we could do with the genetics,'" he says.
And despite the report's narrow focus on Illinois, the implications for agriculture are much more far-reaching.
"We don't just raise food for Illinois, it's pretty much a global entity. And if we start having troubles, that means probably everybody else is having troubles with this, too," Angel says. "I think the overall picture for agriculture and food supply is very troubling moving forward."
Rural communities that are inextricably tied to the agricultural sector are also a concern, says Angel. Many are already in financial peril and may not have the infrastructure in place to protect from the projected temperature increases. According to the assessment, Illinois will see many more days with temperatures above 95 degrees Fahrenheit over the next few decades.
In urban areas, Angel says low-income communities and communities of color are at higher risk of being impacted by extreme weather events like heat waves and floods.
"You look at the '95 heat wave in Chicago, most of the people that died from that were from low-income groups and minorities," he says. "I think those are vulnerable populations that are a concern." 
The report's findings are largely on par with national studies, which also point to the disproportionate impact climate change has on minority populations.
Those did not take into account, however, the impact these changes will have on the mental health of Illinois residents. The stress of living through a natural disaster can have long-lasting effects, says Angel.
"It's not just the dollar losses, it's the impacts on humans as well," he says.
The assessment looked at two different emissions scenarios: one where greenhouse gas emissions continue to rise and another where the state curbs its emissions, though both Wuebbles and Angel say we're likely to end up somewhere in the middle.
Those two scenarios predict very different outcomes, and the authors say it's up to us to determine our own fate. 
"When it comes to climate change, we have three choices: we can mitigate, adapt or suffer. And right now we're doing some of all three," says Wuebbles. "We need to be thinking more about how we mitigate and adapt, and do those in the most effective way."
Dana is a reporter for Illinois Public Media. Follow her on Twitter: @DanaHCronin