Updated Saturday at 10:45 p.m. 
SHELBY COUNTY – On Saturday, meteorologists at the National Weather Service in Central Illinois said an EF-2 tornado caused destruction in Shelby, Moultrie and Coles counties. So far, no injuries have been reported.
According to the NWS, EF-2 tornadoes have winds of 111 to 135 miles per hour. They cause "considerable damage" and are capable of ripping entire roofs off of homes.
Wendy Cox and her family survived the twister that tore the roof off her home. The family is moving in temporarily with relatives.
"It doesn't sound like a train, it sounds like a dinosaur who's really mad," says Cox. 
Corine Cox lives next door to her mother- and father-in-law in a mobile home. She herded her husband and two children into the main farmhouse five minutes before the tornado touched down. 
"The attic door where we were, it flew open and because it took the roof off, you could see everything just go up," Corine says.
On Saturday afternoon, two dozen family friends filled the roofless home to pack up furniture. Many are volunteer firefighters who work with Wendy and her husband. She is grateful for the help.
"We're always on the other side of this. We're always the ones helping everybody else. So this feels really weird to me to have. It's a blessing. It's a huge blessing to know that you have this kind of community support," Wendy says.
Most houses next to the Cox's farmhouse look untouched. Elsewhere in the Coles and Moultrie counties, the storm flattened a fuel storage facility and uprooted homes in a trailer park. American Red Cross damage surveyor Mary Davis said some mobile homes in the facility in Coles County were so badly damaged that they are no longer livable.
FS fuel storage flattened
When the 125 mile-per-hour winds touched down in southeast Moultrie County, they destroyed a fuel storage facility operated by South Central FS.
All FS employees had clocked out at 4:30pm, so no one was in the building when the storm hit just before midnight. The winds flipped two delivery trucks, destroyed two buildings and tipped over a large gasoline storage tank.
This gasoline won't leak into area water, says FS Marketing Manager Michael Bierman.
"The preventative measures that we put in place were very effective, and making sure that we control things, you know, from environmental standpoint. On top of diking, you know, anytime we have a facility, we pay a lot of attention to how water moves," Bierman says.
Bierman expects his team will clean up any spilled liquid by the end of Monday and metal debris by the middle of the week. 
The eight employees who work at the damaged site will relocate to other FS locations around the region.
Deadly collapse at an Amazon facility in Edwardsville
Statewide, most storm-related casualties reported to the governor's office came from the edge of Edwardsville, near St. Louis. At least 6 people died, and one was hospitalized, when storms caused an Amazon warehouse to collapse. However, 45 other workers were able to evacuate the building safely. 
Edwardsville Police Chief Mike Fillback told reporters early Saturday morning that the roof of the Amazon facility there was ripped off and a wall about the length of a football field collapsed.
Much of what is known about the storms the ripped through Illinois Friday night comes from the National Weather Service. NWS meteorologists were out examining storm damage on Saturday, using the evidence to help determine if a tornado was involved.
Meteorologists study the storm damage for tornado evidence
Meteorologists from the Weather Service office in Lincoln identified an EF-2 tornado passing through Shelby, Moultrie and Coles Counties as the cause of damage at both the South Central FS plant near Gays County, and at the Cox farmhouse on the south edge of North Okaw Township.  Storm damage around Herrick in Shelby County was blamed on another EF-2 tornado that came up through Bond and Montgomery Counties. And the NWS says another EF-2 tornado caused damage around Virginia in Cass County.
NWS meteorologist Chuck Schaffer was out inspecting storm damage for evidence that a tornado might be involved. He said in these cases, they already had other evidence of tornado involvement from radar data, weather conditions and eyewitness accounts and photos. 
"But we do need to look at the damage to be sure it was a tornado, and also to see what strength what wind speeds had tornado had based on the damage," said Schaffer, who says he inspected storm damage Saturday in Shelby, Moultrie and Douglas Counties.  
Schaffer says the swarm of tornadoes in Illinois Friday night was unusual, but not surprising, considering the weather.
"We had a very strong low-pressure system that was tracking from Missouri into Illinois," said Schaffer. "There were also very strong wind fields aloft, and at the surface. For the time of year, we had a fairly warm and humid air mass. And really all those factors came together at just the right time in this part of the country, to make an environment that could produce strong tornadoes."
---
Updated Saturday at 9:00 a.m.
URBANA – Meteorologists will be fanning out across central Illinois on Saturday to investigate storm-damaged sites, including multiple places where tornadoes were reported.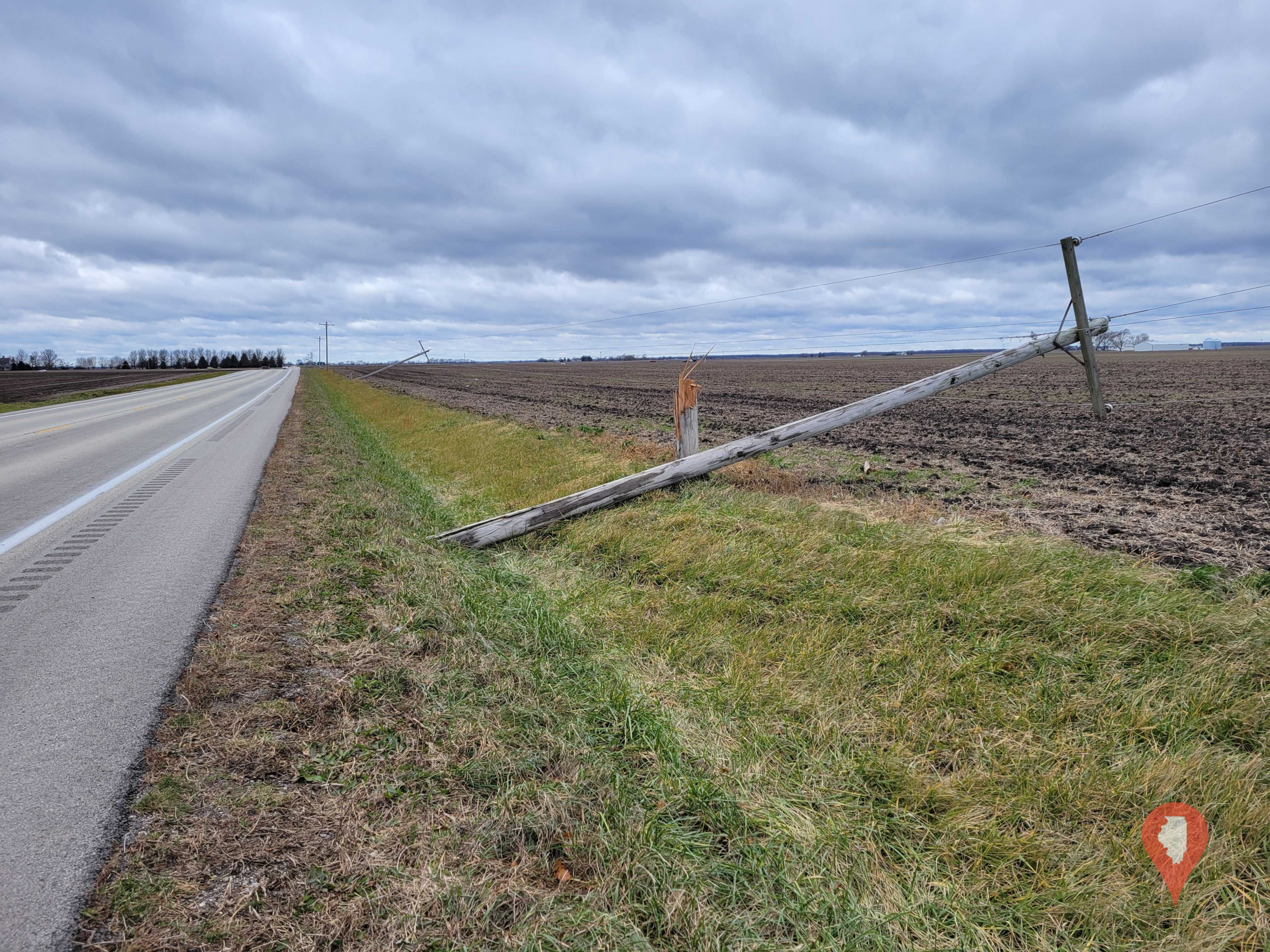 On Friday night, multiple storms moved through Shelby, Moultrie, and Coles Counties. So far, no casualties have been reported, but there have been reports of widespread building damage.
At least two tornado reports are noted along Illinois Route 16 near the Moultrie and Shelby County lines. According to National Weather Service (NWS) storm reports, major damage to homes, silos, trees and power poles was reported at 9:53 p.m. from a possible tornado.  The South Central FS, Inc. plant was also reportedly destroyed.
Around 10:02 p.m. on Friday, a trained weather spotter reported a tornado destroyed a machine shed and blew down power lines in Coles County.
At 10:04 p.m., an emergency manager reported a tornado severely damaged a house with people trapped inside. Officials have not yet said whether anyone inside the home was injured.
Numerous high wind gusts were also reported, including a 65 mile-per-hour gust in Champaign on Friday at 10:16 p.m.
Alex Erwin at the National Weather Service office in central Illinois says two teams of meteorologists will survey the damage on Saturday. The teams will determine and document the exact cause of the damage. One team will tour Shelby, Moultrie and Coles County. Another team will survey Cass and Menard County north of Springfield, where tornadoes were also reported. Click here to see an interactive version of the map shown below.