CHAMPAIGN — Illinois athletic director Josh Whitman drove from Indianapolis to Dayton right after the Illinois men's basketball team was eliminated from the Big Ten Tournament to talk to Shauna Green about the Illini women's basketball job. 
He drove from Pittsburgh to Dayton to talk with Green and her family again about the position last Saturday in between games for the Illini men in the NCAA tournament.
Whitman's persistence paid off, as he hired Green away from Dayton to become the program's new head coach.
"He is very persistent and likes to show up at our house," Green said. "I appreciate that, and that's what showed his belief in me as a leader, and that meant the world to me."
Green was introduced as Illinois' new coach on Tuesday at State Farm Center to a large contingent of media, athletic department staff and fans.
Whitman thanked outgoing coach Nancy Fahey for her hard work in her five years as head coach that failed to produce a winning program, noting that she faced many challenges, including the COVID-19 pandemic.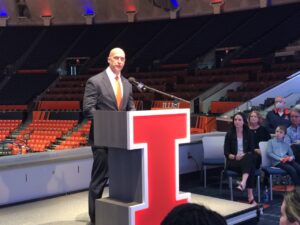 He then outlined why he thinks Green will be able to do what Fahey could not, saying that she was high on every list he compiled when he started looking for a new coach.
"She has a tremendous background as a player and a coach," Whitman said. "We are looking for people who are proven winners, and certainly Shauna is that."
Green compiled a 127-50 record in six seasons as head coach at the University of Dayton, including five Atlantic-10 Conference regular season championships, and four NCAA Tournament bids.
For her part, Green talked about the importance of building relationships with current players and recruits to build a winning program at Illinois, which has not qualified for the NCAA Tournament since 2003, or any postseason tournament since 2013.
Green said all the ingredients are in place to win at Illinois.
"The education is elite. The resources, the investments, it's here," Green said. "I just think that we need the right energy, the right people to come in and to push these young women that are on our team now, to continue to recruit at an elite level, and then something to believe in."
Green has also been an assistant coach at Dayton, Providence and Northwestern. She also had a two-year stint as head coach at Loras College in Iowa from 2006-2007 where she compiled a 29-25 record.
She was a standout player at Canisius College in Buffalo, NY, where she played from 1998-2002. Green is the school's all-time leading scorer with 2,012 points and is second on the team's all-time rebounding list.
Athletic department spokesperson Kent Brown said Green has a six-year contract with a starting salary of $800,000 per year, with a retention bonus every two years.
Listen to Green's press conference here.