URBANA – WILL turns 100 years old in 2022. And throughout the year, we are presenting stories about the history of this station. This story looks back on a locally produced talk show that was a mainstay of the AM 580 schedule for more than thirty years. At a time when national daytime programming was scarce on public radio, WILL's Focus 580 kept its listeners in touch with their community and with the world.
"This is Focus 580, our telephone talk program. My name's David Inge. Glad to have you with us this morning", is how David Inge began just about any of the estimated 12,000 hours of the daily talk radio program that he hosted on WILL-AM between 1981 and 2012.
Inge, a news reporter at WILL since 1976, became one of the rotating hosts of Focus 580, soon after it went on the air in 1981. He became the show's fulltime host in 1985, when it expanded from one hour every weekday to two.
Inge says Focus 580 was the brainchild of WILL's director of broadcasting at the time, Don Mullaly.
"And I think he had the idea that we could do a show that would draw on the vast expertise of the university and the community," said Inge. "And again, try to connect people who have answers with people who have questions."
In time, Focus 580's field of guests and topics expanded to include not just the local community, but the world. When the program was launched, there were no national daily programs on public radio beyond All Things Considered and Morning Edition. So Focus 580, along with its companion show, the Afternoon Magazine, filled the role that those programs would eventually play, and interviewed some of the same sort of guests you might hear on Fresh Air, 1A or Here and Now.
Most of the guests on Focus 580 were not famous, at least not outside of their specialized fields. But some of them were famous, or soon would be. Over the years, Inge's guests included a Tennessee senator interested in environmental issues named Al Gore; Harvard African-American Studies professor Henry Louis Gates, Jr.; Beatles record producer George Martin and assisted suicide advocate Jack Kevorkian.
Focus 580's guest list also included one future president, who opened his 2004 interview by noting the difficulties people had with his name.
"Usually the first thing people want to know is, where did I get this name, Barack Obama?" said the state senator from Chicago, who appeared on Focus 580 as part of his campaign for the Democratic U.S. Senate nomination.
"I'm very proud of my track record on the state level, but I now think that this country is at a crossroads," said Obama in his opening statement. "And the voices of ordinary working people are not being heard in Washington."
Obama went on to answer questions on topics ranging from tax reform to health care. His interviewer that day was Focus 580's longtime producer Jack Brighton, who was filling in for Inge that day. Brighton says while he occasionally hosted the program, it was Inge who set the pace.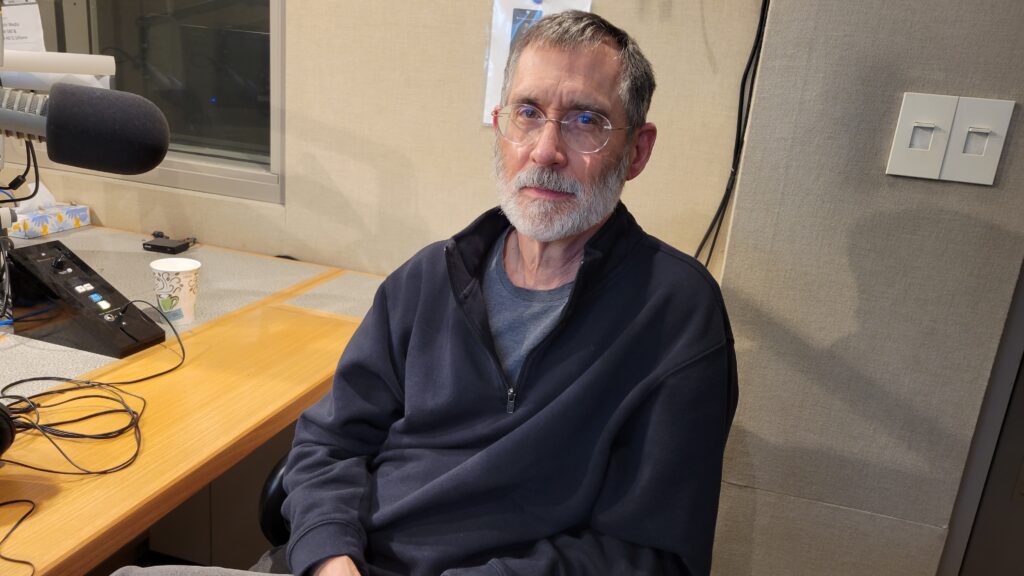 "David was so broadly read, but also very curious, very interested in the world," said Brighton "And whether that's our own local community or the region or the state or the nation or international spheres, he was interested in it. He was willing to do the work. He worked incredibly hard to be prepared."
Despite his preparation, Inge was always ready to step aside for another  component of the show — listener phone calls. Guests on Focus 580 could always expect to encounter questions and comments from listeners. Jack Brighton says their calls were mostly unscreened, unlike those at other talk shows where producers put listeners on the air only after learning what they planned to say.
"It wasn't like we were putting ourselves in some kind of hierarchy above the audience," said Brighton. "In fact, we would often defer to callers, rather than our own questions of the guest. The idea was, we want this to be a conversation open to anybody in the community."
Brighton says the unscreened callers sometimes led to awkward moments. But he thinks it also established a sense of community among Focus 580's regular listeners, who got to explore a wide range of topics together. And for one category of guest, the callers were the whole point. Those were the experts who regularly appeared on the program to answer listener questions on a variety of subjects, such as home repair, personal finance, the law, food and health care.
They included home repair expert Hank Spies, whose 2014 obituary noted his monthly appearances on Focus 580. Inge says he heard from listeners who enjoyed Spies' advice, even if they were renters who didn't have to worry about home maintenance. Another expert was Doyle Moore, a University of Illinois art professor with a passion for cooking and the stories food can tell about people.
"All of those people seemed to be, like right from the beginning, were really good," said Inge of his expert guests. "They knew how to talk to the listeners, not talk down to them, not be overly technical, be really friendly and really accessible, and were personalities in their own right."
David Inge says hosting Focus 580 was hard work, requiring preparation for two one-hour interviews every weekday. The program's production staff was small compared to shows at other public radio stations. Inge says he came to see Focus 580 as an "insatiable monster" always demanding more topics and more guests. But in three decades as its host, he says the program filled a need that he appreciated.
"No matter what it is you're talking about, I guarantee you it is more complicated than you think," said Inge of the lessons he had learned from hosting Focus 580. "And that what I hope we encourage people to do, was to think carefully, to listen carefully, to look at topics that were complex, realize they were complex, and try to kind of take them apart and look at them piece by piece in some kind of rational way."
David Inge retired as the host of Focus 580 in 2012, after 30 years with the program, including 27 years as its full-time host. After that, the show, by this time known as just Focus, returned to its original length of an hour every weekday. It was hosted first by Craig Cohen, and then myself, before it left the air in 2014. By then, public radio stations could choose among several national daytime talk shows.
Illinois Public Media currently produces another talk show, The 21st, serving downstate Illinois listeners on six stations, including WILL-AM.