URBANA – Six figures dance across a set of old documents at the Spurlock Museum at the University of Illinois. 
These kinds of paintings are called ledger art, and it's part of a new exhibit about modern Native American culture called "Welcome to the Pow-wow." 
"It wasn't until the government started coming onto our lands and battling our people that they would leave behind these war records and different documents. Our people would pick those up and would draw a story or try to capture what just took place," explained ledger artist Josh Atcheynum. 
Atcheynum is Plains Cree and grew up in Canada. He now lives in Wisconsin. 
He's a multimedia artist, competing in dance, selling his leatherwork and more in addition to ledger art. 
About five years ago, the Spurlock Museum invited his dance troupe, the Bizhiki Culture and Dance Company, to help curate an exhibit about modern Native American culture. 
The goal was to turn the page on past practices at the Spurlock and other museums that stereotyped Native Americans, had inaccurate information collected by non-Indigenous academics or even housed human remains without their descendents' consent. 
As those at the Bizhiki Culture and Dance Company got to work on the exhibit, they commissioned six pieces of ledger art from Atcheynum. 
He says they called him with the request on a Wednesday and he had finished them by Friday. 
"I work quickly, simply because it took me a long time to get to the point where people actually wait for my artwork. I don't like people waiting," Atcheynum said. 
None of the dancers have faces. 
"I'm not just capturing one person. I'm embodying the spirit of our regalia and the things that we were that were passed down to us," Atcheynum said.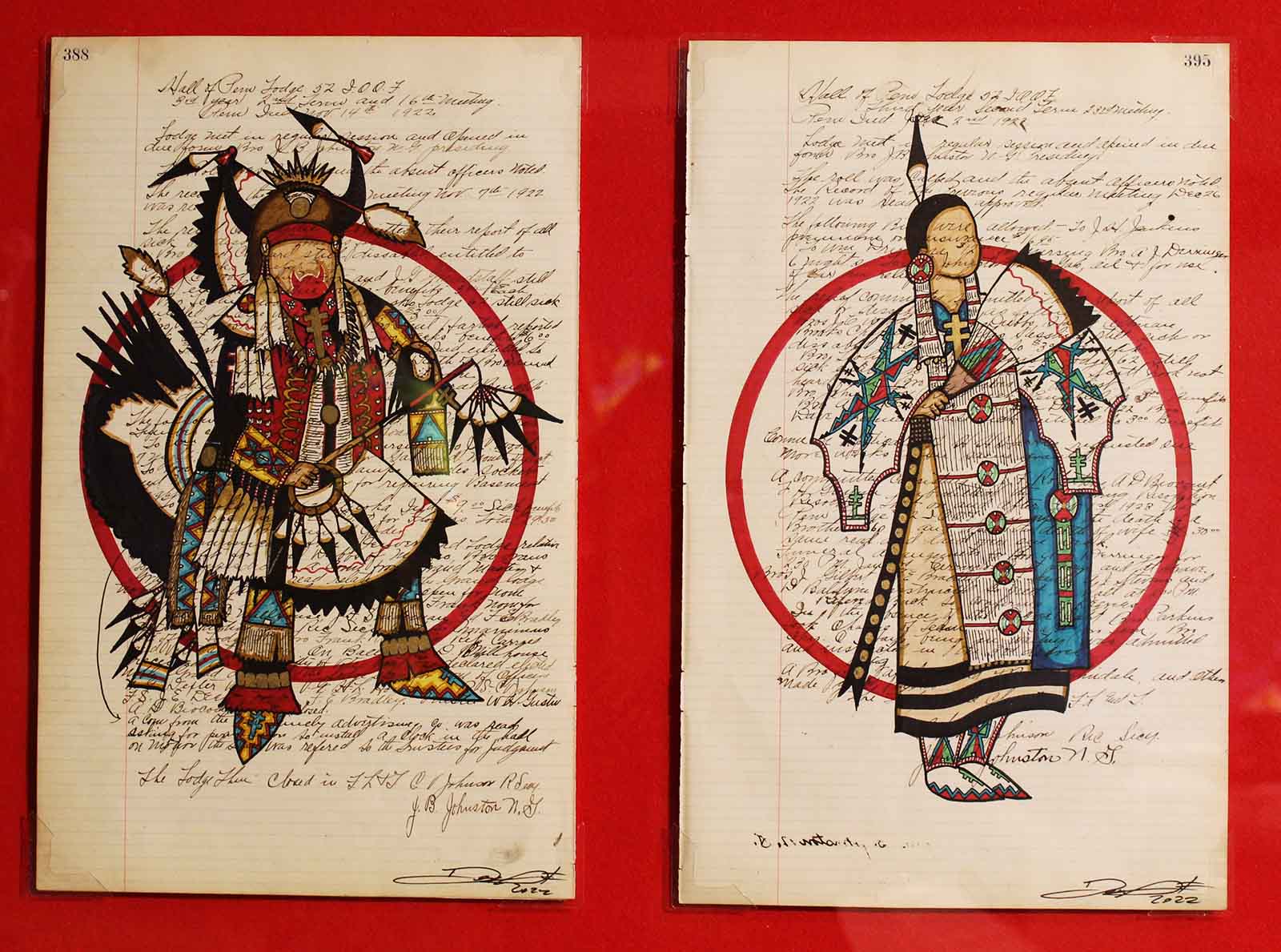 "I was a young kid," he said. "I must have been seven years old. That piece really inspired me to draw like this. I started drawing like figures with no faces, but didn't know why."
Atcheynum continued to be fascinated by ledger art as he grew older, and he eventually found his own style. That style is detailed and uses multiple media, including paint, ink and more. 
"I just really try to do my part to ensure that my people's history is recorded in some way," he said. "And the best way for me to record my people's history is through art."
Emily Hays is a reporter for Illinois Public Media. Follow her on Twitter@amihatt.