CHAMPAIGN – Champaign-Urbana residents celebrated Juneteenth on Friday afternoon with a peaceful march and a small festival in Beardsley Park. Juneteenth is celebrated every year on June 19th, and commemorates the day in 1865 when some of the last enslaved people in the Confederacy were emancipated.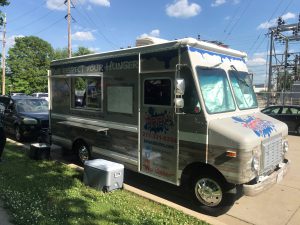 HV Neighborhood Transformation (HVNT) organized the inaugural Juneteenth event, which started with a peace walk from Western Bowl in Champaign to Beardsley Park. The march included several stops for eight minutes and 46 seconds, to pay homage to the amount of time a Minneapolis police officer kneeled on George Floyd's neck, killing him.
"For us, it's part of what we call community building," said HVNT co-founder William Brown. "Part of community building is educating the community on our history, on understanding the importance and how vital Black people were for the history of this country."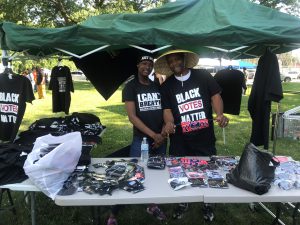 Upon arriving to Beardsley Park, marchers were greeted by a several booths, food trucks, a DJ and a dance floor. All vendors at the event were Black, including Herbert Burnett, who owns local clothing store Suits By Souljah and said he completely sold out of Juneteenth shirts.
"[Young people are] really mobile now, and I think that's the most important group because they ain't scared and they don't mind change," he said. 
This year's Juneteenth celebration comes amidst nationwide protests demanding police accountability and racial justice. 
"We've got to capitalize on the movement," Burnett said.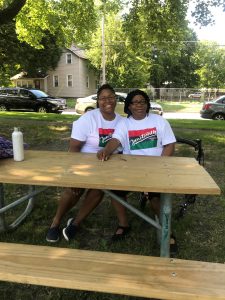 The celebration also featured performances including African dancers and drummers, a balloon artist and spoken word poetry. Local nurse and writer Ashanti Files read her poem, "Reckoning," which focused on the plight of Black women.
"With the current protests, they're centered largely around George Floyd, but we've kind of let the Black women fall to the wayside, like Sandra Bland and Breonna Taylor, who was killed in her home," she said. "It's important for us to not let them be forgotten."
Juneteenth marches and celebrations also took place today in Danville and St. Joseph. This weekend is also the inaugural 217 Black Restaurant Weekend, which is hosted by Buy Black Chambana and encourages locals to buy from Black-owned restaurants.
Dana Cronin is a reporter at Illinois Public Media. Follow her on Twitter: @DanaHCronin