URBANA – Since Aug. 16, when twice-a-week COVID-19 testing was made mandatory for students arriving back to the University of Illinois at Urbana-Champaign, 679 positive COVID-19 cases have been identified among students, faculty and staff, according to the U of I's public database.
Most of these are among students who arrived back to campus already infected, said U of I epidemiologist Becky Smith in an interview on The 21st show Monday.
Smith is a member of the university's SHIELD team that has been focused on developing a multi-pronged approach aimed at safely reopening campus. SHIELD is the U of I's COVID-19 testing and tracing program.
It's still too soon to say how well the campus is containing the spread of the virus "because we're only just starting to see those numbers, simply because it takes a few days to go from infection to being detectable by test, and then a few days after that for any secondary cases after that first case," Smith says. "This week, we find out what happened last week."
Smith says she'll be watching the numbers closely and working with the Champaign-Urbana Public Health District to determine whether campus is experiencing clusters of cases linked to one another.
She says if at any point, they feel they're losing control of infection on campus, they'll recommend the university send students home.
"That is on the table. That is an option we will take if we feel that we can't control it," Smith says.
C-U Public Health officials said Monday that about 80% of the new COVID-19 cases in Champaign County from the past two weeks have been linked to the U of I, with the majority being "imported cases."
"We have no indication of local community spread among students as yet," said Awais Vaid, C-U Public Health epidemiologist.
Speaking on the 21st show, U of I chemist Paul Hergenrother said the SHIELD Illinois team is working on getting ten additional lab sites running across the state — to increase the state's coronavirus testing capacity. The state is also working on creating mobile clinics that use the campus' saliva-based PCR test, with the first one launching by the end of September.
Smith says the data from students' first two tests after arriving back on campus are within the range of what was predicted through the campus' modeling.
One unexpected challenge with reporting the results, Smith says, is that there was a higher-than-expected number of students testing positive with very low, but detectable levels of the viral material. 
U of I spokesperson Robin Kaler says some of these students arrived back on campus with a doctor's note saying they were infected with the virus in the past, have completed their isolation period and are no longer infectious. But they are required to continue getting tested, following campus policies.
Smith says the SHIELD team had predicted the problem of "persistent positives" wouldn't be as severe with saliva-based tests as traditional nasal swab tests, so they were caught off guard when the data showed otherwise.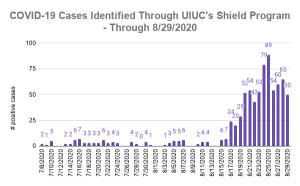 "Since nobody had been doing mass saliva testing, nobody knew if persistent positives would exist in saliva the way they do in nasopharyngeal swabs," she says. "We suspect it to be dead viral material… It's not uncommon to pick up genetic material (using PCR tests such as the U of I saliva test) after infection is no longer ongoing."
For those who are placed in quarantine due to exposure to someone with a confirmed case of COVID-19, C-U Public Health has been requesting people go to a campus testing site after five days, in order to determine whether they have since contracted the virus and should be placed in isolation. 
Administrator Julie Pryde says those who receive a negative test result after five days still have to finish their 14-day quarantine period.
Two students and one fraternity have been suspended for violating coronavirus policies at the U of I Urbana campus, and another 119 students and 11 groups are under investigation, according to the News-Gazette.
Christine Herman is a reporter at Illinois Public Media. Follow her on Twitter: @CTHerman