URBANA – The University of Illinois at Urbana-Champaign launched a public database Monday, which reports how many saliva-based COVID-19 tests are being performed on the campus each day — and how many positive cases have been identified.
Out of 50,945 tests run on students, faculty and staff from Aug. 17 through Aug. 23, 311 positive cases were identified. 
Researchers whose modeling is informing the campus' reopening plans said in an online press briefing on Aug. 21 that they expected to see a spike of about 200 cases with the arrival of tens of thousands of students back to campus, some already infected with COVID-19.
The Urbana campus opened Monday for a hybrid of in-person and online classes.
U of I physicist Nigel Goldenfeld, whose modeling helped inform the campus' reopening plans, says the number of cases identified in the first week of students being back on campus falls within the margin of error of the prediction of about 200 cases.
Goldenfeld says he and his colleagues will be tracking the data from the campus' testing program and refining their predictions about how things will play out this semester.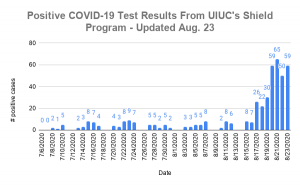 He says the prediction of about 700 cases by Thanksgiving break still holds — although the error bars on that data point, for now, are plus or minus more than 100.
Goldenfeld says that as the Shield team ramps up to processing more than 10,000 tests a day, it may take more than just a few hours to get results back.
"The Shield team is acutely aware of the importance of getting things back quickly — both from the point of view of not inconveniencing students, but also from the point of view of getting results back quickly," he says, "so that any mitigation steps, such as contact tracing or quarantining can be started as soon as possible."
U of I chemistry professor Martin Burke, who helped develop the campus' saliva-based test, says rapid testing and isolation will break the chain of transmission and help clamp down on the spread. 
He says everyone must also do their part and follow campus policies, calling to face coverings, social distancing and avoiding large gatherings.
"Keep in mind: Our goal is not to open. Our goal is to stay open," Burke says. "So we all need to team up and make this happen. These next two or three weeks couldn't be more important."
Champaign-Urbana Public Health administrator Julie Pryde says the U of I's testing program is a model of what the entire country needs to safely reopen.
U of I officials say more than 400 dorm rooms have been set aside for students living on campus to isolate or quarantine — and they will be monitoring the situation, working closely with C-U Public Health, to determine whether the campus needs to adjust its reopening plans. 
Pryde said Friday that her agency is paying attention to hospital data and their capacity to conduct contact tracing and monitor those in isolation and quarantine. She said the Champaign-Urbana is "far away from a level of concern right now."
Christine Herman is a reporter at Illinois Public Media. Follow her on Twitter: @CTHerman
UPDATED on Tues, Aug. 25, to include comments from U of I physicist Nigel Goldenfeld.