CHAMPAIGN — December 24 will mark half a year since the Supreme Court overturned Roe v. Wade, the 1973 decision that legalized abortions. 
The June 24 decision to overturn Roe and the related 1992 ruling in Planned Parenthood v. Casey, individual states could suddenly regulate abortion in their jurisdictions. Bans and restrictions spread throughout the country.
In Illinois, abortion clinics soon flooded with out-of-state patients seeking abortions. 
In an online forum sponsored by Planned Parenthood in September, one patient, who went only by Kara, shared her story about having to travel out of state to receive an abortion.
The Tennessee resident was 22 when she found out she was pregnant. That was in 2019.
The day she found out, she said she decided to get an abortion. But she had trouble finding services in her state. 
"I remember there were maybe a couple of providers I could find online in the state of Tennessee, but either they were no longer providing abortion services, had been shut down altogether, or they either had disabled or full appointment calendars," Kara said.
Kara said the most difficult part of her experience was finding such a provider.
"I was just frustrated and super angry that there were so many hoops to jump through, days of work I would have to miss, honestly just psychological trauma of dragging this out that I would have to endure," she said.
"It just felt like the information I needed online was made purposely confusing, and it would've made the whole situation a lot less emotionally taxing, stressful and most of all shameful if I could have easily found a care provider."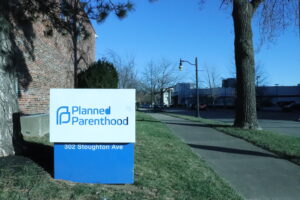 Kara said she was able to receive an abortion a week later – but more than 500 miles away at a Planned Parenthood in Aurora, Illinois.
Kara said she doesn't regret her decision. 
"I'm grateful to be able to have lived my life the way I envisioned," Kara said. "It would've really derailed everything financially, career-wise, just the way that I wanted to be living my life." 
She said everyone who has received an abortion has their own reasoning.
"For me, I just didn't want to have a child," she said. "It was the right decision for me in that time and that moment."
Jennifer Welch, the president and CEO of Planned Parenthood of Illinois, said the group is seeing major increases in out-of-state patients.
"At this point, approximately one third of PPIL's abortion patients travel from out of state," Welch said.
She said Planned Parenthood is expecting to see an additional 20,000 to 30,000 abortion patients a year. 
Amy Gherke, the executive director of Illinois Right to Life, a pro-life and anti-abortion organization, said she's concerned about that influx, too – but for an entirely different reason.
"Governor Pritzker and many in the legislature are doing everything in their power to make our state this haven of death where we're simply known for the place to go to get an abortion," Gherke said.
Dr. Amy Whitaker, the chief medical officer of Planned Parenthood of Illinois, doesn't put it that way. She said she sees Illinois as a state of refuge, but it's not like getting an abortion will be easy. 
She sees many out-of-state patients face barriers when considering traveling to Illinois to receive an abortion.
"It's not just a simple matter of like, 'Oh, I'll just drive to Illinois and get the procedure,'" Whitaker said. "It's, 'I have to take off work. I can't get there and back in one day. I have to find childcare. I can't afford the transportation.' All of these things are coming into play."
Now that Roe v. Wade has been overturned by the Dobbs decision, Whitaker said stories like Kara's will be repeated over and over again for the indefinite future, as more people than ever come to Illinois seeking abortions.
Whitaker said the group seeing the biggest impact, though, are patients who are already marginalized.
"Black patients, Latinx patients, patients who live in rural areas, low income patients, minors, adolescent patients," she said. "Those patients who are really feeling the burden of this the most and for whom it's hardest to travel, who are already facing these barriers to care and disparities in health outcomes."
Some physicians are also having to travel across state borders, but to provide abortion services now that abortions are banned in their own state. 
Dr. Margaret Baum, the medical director at Planned Parenthood of the St. Louis Region and Southwest Missouri, said she has been traveling to Illinois to perform abortions since even before the Dobbs decision because of Missouri's strict abortion restrictions. 
Baum said the Missouri legislature required inconvenient mandates like requiring physicians to perform ultrasounds instead of technicians or trained medical assistants.
It also required pelvic exams before any type of abortion, which she said are inappropriate and unnecessary to be required before medication abortions.
To accommodate for this, she said the group moved its main abortion facility to Illinois to continue providing care.
"But even with all of that preparation, I have very distinct memories of doing my last procedures in Missouri at our sort of flagship Planned Parenthood clinic in St. Louis," Baum said. "I remember being there and seeing the last patients and thinking, 'Wow, this is really it.
"I no longer am going to be able to provide the care that I was trained to give in the state where I live where I do a lot of my medical practice.'"
Now that abortion is banned in Missouri except in cases of medical emergencies, she only provides abortion services in Illinois. 
Baum said she's not worried that Missouri lawmakers will be able to pass laws banning her travel to Illinois to perform abortions, but that may change. 
"I'm not sure that 10 years ago I would have thought that abortion would be criminal in so many states like it is now," she said. "So I guess you never know what could happen."
According to The New York Times abortion law tracker, right now, abortion is banned in 13 states, with five other states enforcing a gestational limit ranging from six to 20 weeks. Abortion is legal in 25 states, but limits are enforced in some.