UPDATED June 25, 2020:
C-U Public Health Administrator Julie Pryde says the Trump administration's move to withdraw federal funding from some COVID-19 testing sites will not affect Champaign's public drive-through testing site at Marketplace Mall. But come July, it will no longer be staffed by the Illinois National Guard.
Pryde says she does not expect any disruption in service as they switch to a new contractor. Rather, they will add a walk-up option and possibly extend the hours of operation. 
"And we hope to be able to work with them more closely to perhaps get more mobile-type testing sites" in different neighborhoods across the county, Pryde says.
As the state moves into Phase 4 of the Restore Illinois plan on Friday, June 26, Pryde says it's important to remember that reopening does not mean the virus is gone and is no longer a threat. 
She encourages vigilance with the use of cloth masks — especially inside — and social distancing as more public spaces reopen.
"We must continue to protect ourselves and our friends and neighbors throughout our community, especially those who are most vulnerable," Pryde said in a statement. "This is not the time to take a break from practices that have been implemented and practiced for the past three months. This is going to need to continue throughout the pandemic so that we do not have a set-back."
Original story published on May 18, 2020:
CHAMPAIGN – A new drive-through COVID-19 testing site opens Tuesday at the Market Place mall in Champaign. Officials say the state-supported site supplements local testing efforts and aims to increase access for those in marginalized communities.
The site is located at the Market Place shopping mall on North Neil Street, outside the J.C. Penney's wing.
The facility will be open from 8 a.m. to 4 p.m., seven days a week, and will offer free testing for anyone with COVID-19 symptoms, as well as all employees who support critical services — including health care workers, first responders and employees of grocery stores, pharmacies and other essential businesses — regardless of whether they have symptoms.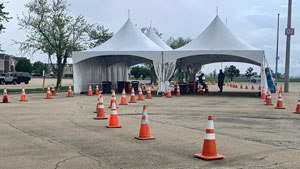 Illinois Department of Public Health Director Dr. Ngozi Ezike says the state has expanded its testing capacity, allowing more people to qualify for tests without a doctor's referral.
Ezike says one of the goals is to rapidly identify people with COVID-19, "which should translate to early observation and evaluation of people who are positive, as well as immediate isolation of individuals, all of this with the goal to help prevent additional spread."
The state does not have official guidance on repeat testing, she says, but getting re-tested every one to two weeks would be a "good place to start."
As the state moves toward slowly reopening the economy, Ezike says the goal is to further expand testing to make it available to everyone who will be returning to work.
Ezike says the state is working to eliminate racial disparities, noting that African-American and Latinx communities have been "disproportionately impacted by this virus."
As of Monday in Champaign County, 47% of all people with confirmed COVID-19 cases are Hispanic, even though they make up only 6% of the population. 
Local officials say the overrepresentation of Hispanic people among the county's positive COVID-19 cases is largely due to the outbreak at Rantoul Foods.
CU Public Health Administrator Julie Pryde says they're seeing essential workers who contract COVID-19 unknowingly infect members of their household.
"This is why, even with all this testing, it's critical that everyone at their employment make sure that they are… being very vigilant about infection control practices," Pryde says.
The new testing site at the Market Place mall has a testing capacity of 500 tests per day, Pryde says.
If tests run out, she recommends people find another testing location, such as the testing site at Frances Nelson Health Center in Champaign, which also offers free testing, supported by the state.
A complete list of COVID-19 testing sites is available on the IDPH website.
Officials say people should follow instructions provided at the site and be prepared for a potential wait.
Visitors will be instructed on how to collect their own sample with a nasal swab and return it to the health workers on site. 
CU Public Health nurse Ariel Philips says the process is "quick and painless."
Illinois Emergency Management Agency Director Alicia Tate-Nadeau says the state has opened eight community-case testing sites so far, with more slated to open in the coming days.
"I wish there were enough testing supplies to put one in every county, but at this point we simply don't have enough materials," Tate-Nadeau says.
If you have a question regarding COVID-19, submit it here. Follow Christine on Twitter: @CTHerman