URBANA – If you felt like December's weather was mild – you're right.
According to provisional data, December 2021 was the fifth warmest December on record. The average statewide temperature was 39.4 degrees Fahrenheit – more than nine degrees above average.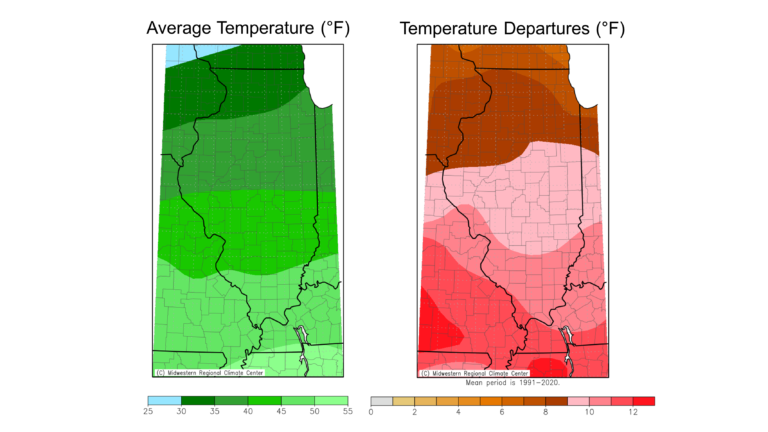 It was the warmest December on record in Carbondale, the third warmest in St. Louis, Springfield and Peoria, the fourth warmest in Rockford and Champaign-Urbana and the fifth warmest in Chicago.
Illinois State Climatologist Trent Ford says this falls in line with the general climate change trend. 
"Every single season in Illinois has gotten warmer," he says. "And winter has warmed at a faster rate than all the other seasons."
Among the winter months, he says, December has warmed at the fastest rate. 
"December is becoming more of a colder fall month than a winter month," he says.
Uncharacteristically warm December temperatures are becoming increasingly characteristic as the global climate continues to change. According to a report from The Nature Conservancy, the number of extremely cold days in Illinois has already and will continue to decrease significantly over the next century. 
Climate scientists also predict snowfall in Illinois will largely turn to rainfall – as it did in December. Some areas in Illinois, including Chicago, recorded their first measurable snowfall later than ever before. Overall, snowfall was 1-8 inches below normal in December 2021.
Warmer winter temperatures can have a variety of impacts across the state – especially within the agriculture industry.
Ford says not all impacts are necessarily bad. 
"When we get the warm extension into December, what that does is it extends that field work season before they need to wrap things up before we get that real winter weather that now we've gotten here in January," he says. "So that can actually be beneficial."  
The warmer weather also helped Illinoisans save on their home heating bills, he says.
However, he says warmer weather can also increase the prevalence of pests on farms and in homes.
Ford says on the whole, 2021 was warmer and wetter than normal (though he's still waiting on official numbers, which are due out later this month). But he says there was a lot of variability across the state. For example, northern Illinois experienced drought early in the year, while central Illinois couldn't seem to dry out. The city of Rockford had its fifth driest year on record, while Bloomington-Normal (two hours south of Rockford) had its sixth wettest year on record.
Going forward, Ford says models show the coming months could continue to bring above average precipitation in the form of both rain and snow.
In its most recent report, the United Nations' Intergovernmental Panel on Climate Change demonstrated that humans are unequivocally responsible for the effects of climate change. 
Dana is a reporter for Illinois Public Media. Follow her on Twitter @DanaHCronin