CHAMPAIGN – The head of a county-wide effort to improve police-community relations says he's hopeful recent protests in response to the killing of George Floyd by police in Minneapolis will lead to lasting change.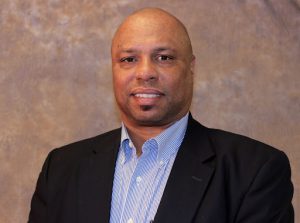 "I'm optimistic that here's another opportunity for us to make substantive change around this issue of policing… in black and brown communities and low-income communities," says Tracy Parsons, facilitator of the Champaign Community Coalition — an initiative of the city of Champaign.
Parsons says unrest following the 2009 shooting death of a black teenager by a white police officer in Champaign led to the formation of Coalition.
Since then, he's been leading efforts to foster dialogue between law enforcement, residents and local organizations, with the goal of working together for a more peaceful and just community.
Parsons spoke with Illinois Newsroom about how those efforts have led to changes in policing, which gives him hope during this time. 
This interview has been lightly edited and condensed for clarity.
Christine Herman: How did the Champaign Community Coalition initially come about?
Tracy Parsons: I was as adamant and angry about the death of Kiwane Carrington as I probably am with George Floyd. You know, just hate to see those incidents occur. 
I've been able to connect people and groups that are sometimes adversarial and not interested in talking to one another. I've been able to get those folks in the room together so we can start again identifying solutions and remedies. 
This work is what helped create and build the Community Coalition. It was raised out of a very intense, controversial time in our community. We were able to build some collaboration opportunities and hear from our community about what their wants and needs are.
It's a similar role that we're playing today. We supported the protest march for George Floyd, with a number of community groups marching in solidarity around peace. 
I think everyone is now, for the first time — not only here in our community, but across the country — really ready to address issues around policing and police accountability. 
So I'm optimistic that this incident will [lead to change], as I heard the brother of George Floyd say, that his death is not in vain. 
CH: Are you more optimistic now than you were, perhaps 10 years ago, that all of this attention, the unrest and the protests will lead to real change? And what would that change look like for you? 
TP: Yeah, I'm optimistic because, you know, cameras have made the difference, really, in exposing all of the things that we've been fighting law enforcement for decades, right?
And I believe law enforcement leadership is different today than 10 or 15 years ago.
Most of the police chiefs I worked with back in those days weren't really open to change. They weren't open to hearing that their policing was biased. How it was policed in the black community was different than how it was policed in other areas. That level of accountability wasn't there, that ability to see from a different lens wasn't there. 
For the last, really, five to seven years here in Champaign County, we've had good police leadership that's been open to change. And you can't do things the way that you did them before, saying that you followed policy, or police reports didn't indicate that they had violated any policy, and stand behind those things. 
You know, the case in Urbana with Ms. Lewis is a perfect example of that. 
CH: Can you explain more about that case? 
TP: This is a local case that actually has a lot of similarities to the George Floyd case in Minneapolis. Law enforcement were called to the scene for reports of shots fired, came on the scene with two individuals, with one being a black female. 
And officers ended up being physical to get her arrested or under control or whatever they were trying to do. They did throw her to the ground, punched her, put a knee in her back. And police's initial response was that procedure and policy was followed. 
There's been a great deal of community uproar about this. I've had a number of conversations with the mayor and the police chief. And we are now looking at this case differently. 
Ten years ago, we would have said, from the community, we didn't like what happened. We wouldn't have had video proof. Law enforcement would have said policy was followed. We would've filed a complaint and that would have been the end of it. 
But now we are reviewing and we're looking at things differently. There's openness to an outside investigation. With law enforcement, I'm having a number of meetings around trainings and really looking at how policy and practice is implemented. 
We have really good police here. We have good police leadership, you know, Chief Cobb and Chief Seraphin, I think, are top-notch guys who really want to get it right. 
And there are going to be incidents that happen. My response, usually, is: How do you respond to that? How do you react to that? 
Are you open to looking at: Maybe we didn't get this one right? Or, maybe if we had approached this one differently, the outcome could have been different.
So the fact that we're willing to do that and look at it from that lens is significant progress for me.
Christine Herman is a reporter for Illinois Public Media. Follow her on Twitter: @CTHerman