EDITOR'S NOTE, Sept. 29: This story is no longer up-to-date, as University of Illinois officials claimed the campus' saliva-based test had received FDA emergency use authorization on Aug. 19, but an FDA spokesperson tells Illinois Newsroom the test has never operated under an EUA. For more information on the newly learned details, click here.
CHAMPAIGN – A saliva-based COVID-19 test created by researchers at the University of Illinois at Urbana-Champaign has received authorization from the U.S. Food and Drug Administration.
The FDA emergency use authorization was granted to the U of I's test on the basis that it performs at least as well as a recently approved saliva-testing protocol developed at Yale University, setting a precedent that could allow other labs to follow suit. 
The announcement was made at a press conference held by Gov. J.B. Pritzker in Chicago Wednesday.
As tens of thousands of students return this week for the start of the fall semester, labs on the Urbana campus have been operating around-the-clock, now running upwards of 10,000 tests per day, says U of I chemist Paul Hergenrother, who led the team that developed the saliva test, in an interview with Illinois Newsroom.
Pritzker says he wants to see the test expanded across the state.
"We're already working to deploy this to more public universities across the state over the next weeks and months, and exploring rolling this out to do testing potentially for K-12 schools and even more testing at our long term care facilities as well," Pritzker said at the press briefing.
At the start of the COVID-19 pandemic, Hergenrother says a team of researchers on the Urbana campus began working to develop a cheap, rapid test that could be easily scaled up to perform 10,000 tests a day.
To do that, Hergenrother says they knew it would be critical to avoid supply chain bottlenecks that were leading to challenges expanding traditional COVID-19 tests, including nasal swabs and personal protective gear.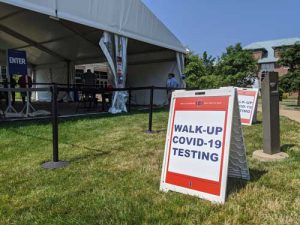 "We knew that, at a university of this size, that we needed something that was very, very convenient," he says.
The scaled-up testing program is making it possible for the Urbana campus to require twice-a-week testing for all students, faculty and staff who are participating in campus activities. 
If they hadn't been able to launch a large-scale COVID-19 testing program in time, Hergenrother says the campus would not have made the decision to reopen.
"The idea is: If you can test everybody rapidly and report results back quickly and test them frequently, then — when positives do arise, which they will — [you can] isolate them quickly before they can spread," he says.
Hergenrother says the U of I will launch a public database that will report how many COVID-19 tests have been conducted and the number of positive cases identified among students and employees. 
An element of the U of I's saliva test that makes it uniquely suited for large-scale adoption is the ability to use heat to inactivate the virus in collection tubes, without opening any tubes, Hergenrother says. This makes it safer for the workers in the diagnostic labs.
Hergenrother's colleague, U of I chemist Martin Burke, says when saliva-based testing on the Urbana campus launched for a trial run with employees and grad students who were on campus in July, the positivity rate was 1.5% to start, and then dropped to below 0.2%.
Burke and Hergenrother's preliminary studies — and early results from other labs — show saliva-based tests are as accurate, if not more so, than the traditional nasal swab tests.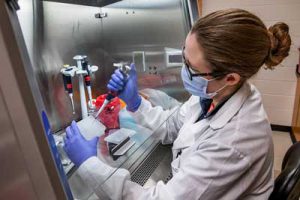 Other labs that have a federal designation, known as CLIA, can adopt U of I's saliva-based test, but will have to first perform similar "bridge studies" to the FDA emergency authorization granted to the Yale School of Public Health, showing the tests perform at least as well.
In addition to analyzing tests from its own campus, the U of I's Urbana labs will receive tests from the U of I Springfield campus, in addition to Greenville University in southern Illinois, which is working with the Illinois Shied team to see how the saliva-based testing program works on a small college campus.
U of I researchers who've conducted modeling to inform the campus' reopening decisions predict the COVID-19 testing program — in conjunction with other mitigation efforts, including mandatory face coverings, social distancing, online instruction and reduced in-person class sizes — will help keep the number of positive cases this fall to under 500.
At the press briefing, U of I System President Timothy Killeen and Urbana Chancellor Robert Jones praised the U of I researchers who developed the campus' Shield program.
"We are proud to be the university that is home to a huge team of amazingly dedicated, talented researchers who came together so quickly to move this test from concept to use approval in just a matter of months," Jones said.
U of I officials are encouraging all students and employees to use the "Safer Illinois" app, developed in-house to provide testing results and reminders and to notify users if they may have been exposed to someone with COVID-19.
The U of I System also recently announced the formation of a new organization, called Shield T3, to work toward making the saliva test available nationwide. 
Sean Crawford contributed reporting.
Christine Herman is a reporter for Illinois Newsroom. Follow her on Twitter: @CTHerman