CHAMPAIGN COUNTY – Severe storms damaged agricultural communities in the village of Dewey and Rankin on Friday night.
The National Weather Service says an EF-1 tornado with peak wind speeds of 105-110 miles per hour touched down 3 miles south of Dewey. It moved 11 miles northeast and crossed I-57 before dissipating a mile south-southeast of Ludlow. 
The storm hit a passenger bus, forcing it to turn over. According to media sources, there were only two minor injuries.
The tornado also damaged a barn in Rankin and an Illini FS business in Dewey.
Tom Theesfeld, a Rankin livestock farmer, said that a lot of what was damaged in the storm was storage, so his business will not take any major hits. 
"[It's] business as usual; life goes on every day. Tomorrow's another day. That's all you can do," said Theesfeld.
However, farmers who were going to start planting their crops this spring may face some delays.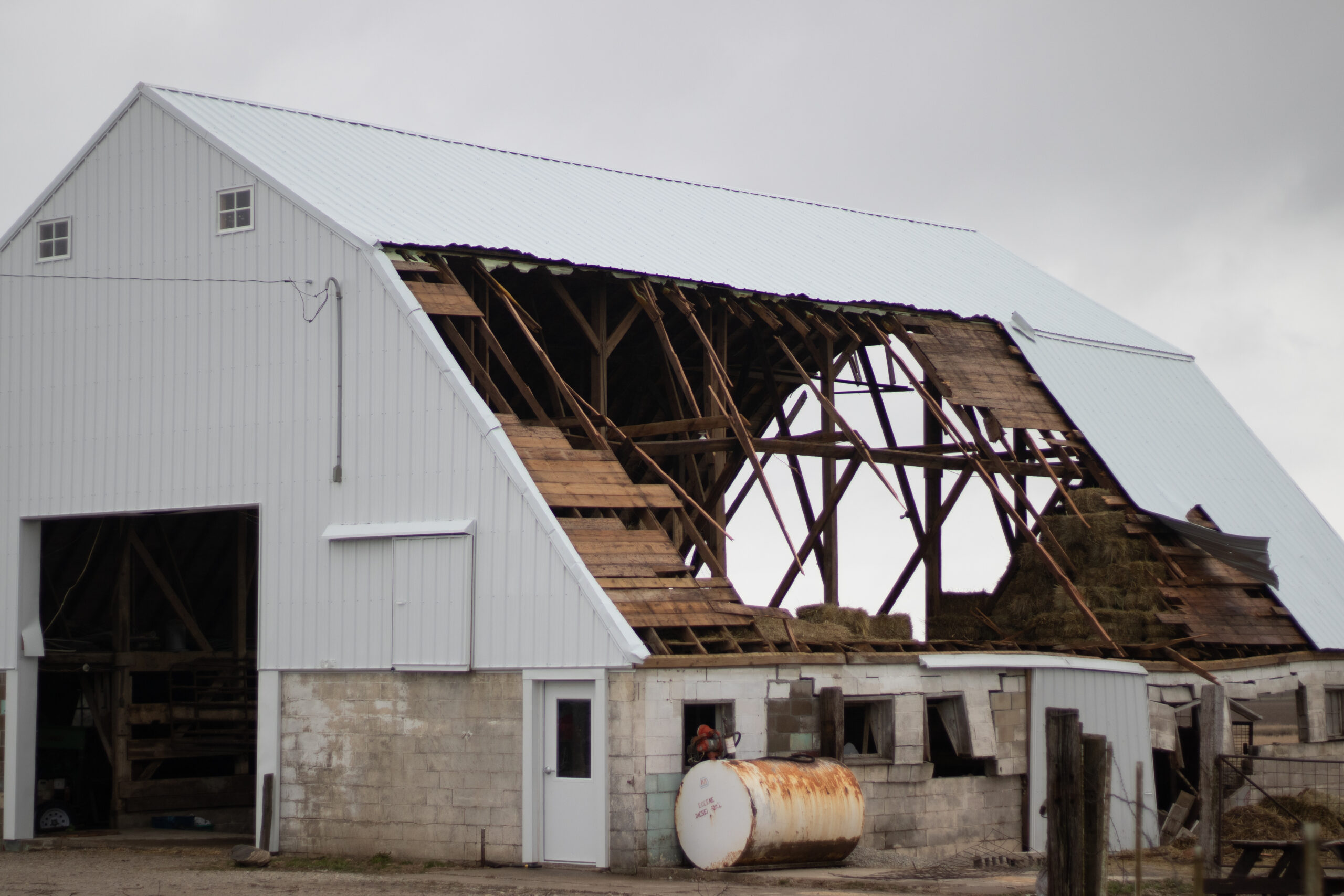 Cory Kraus is the general manager of Illini FS Inc., a farming supply company. He said they lost two machine sheds that housed the equipment and damaged buildings of their facility. 
"It's April 1. As soon as it dries up, you know, planting season is going to happen," said Kraus. "And the equipment that you see with damage and material on it will be used. So it's gonna be hard to get our work done."
Megan Shmid is the daughter of a family who owns a farm in Rankin. She buys supplies from Illini FS Inc. in Dewey. 
She said although they may face delays, luckily, her family's grain farming business won't be impacted due to the damages.
"The timing is bad. But we probably won't be super impacted other than, the normal maintenance cleanup side of things," Shmid said. "We'll get somebody else in here probably to fix everything and build a new barn."
Shmid says her family's farm has a lot of work to do. She says fences and a couple of door sheds were broken due to the storm. 
However, Theesfeld and Shmid said that they were lucky they had family and friends come by and help them out after the storm. 
"That's one of the best things is that I got good neighbors," Theesfield said. "They've all come by and offered to help, and what more can you ask for?"