Lea este artículo en español aquí.
COBDEN — On a recent Saturday, white vans shuttled small groups of migrant farmworkers from the southern Illinois orchard where they work to St. Joseph's Catholic Church. The workers had arrived days earlier from Mexico for the start of the tilling season. 
Many attend St. Joseph's Spanish-language service during their months-long stay in the rural village of Cobden. But on this day, they came to the church, not for Mass, but to receive the first dose of the coronavirus vaccine. 
The church's parish hall, which has sat empty and unused throughout the pandemic, had been converted into a pop-up COVID-19 vaccination clinic. The farmworkers stood among other vaccine-eligible residents from the area in a long, socially distanced line that spilled from the hall entrance into the church parking lot. 
Inside, more than a dozen staff and volunteers — from the state's health department and several local organizations that cater to farmworkers — shepherded people through the vaccination process.
The goal of the pop-up clinic is to help farmworkers get access to the vaccine. They face many barriers, such as a lack of transportation, technology, and access to information in their native languages, said Karla Grathler, who leads the farmworker health program at Shawnee Health Service, which serves communities across southern Illinois.
"Instead of them coming to us, we come to them," Grathler said. "That's, I think, the most effective way to serve this population."
The hope is that grassroots efforts to get the vaccine to these hard-to-reach populations will make 2021 a less devastating year for agricultural workers. Since the start of the pandemic, about half a million workers at farms and food processing plants have contracted the virus, and at least 9,000 workers have died from it, according to researchers at Purdue University. 
Many states, including Illinois, are following guidance from the Centers for Disease Control and Prevention and prioritizing farmworkers alongside other essential workers in their vaccination plans. And in some parts of the country, like Cobden, farmworkers are feeling a sense of relief after getting the first dose.
"Truthfully, the pandemic has affected us a lot," said 44-year-old farmworker Sergio Chavez in Spanish. "Thanks to the [U.S.] government that cares about this vaccine. Thank God we have gotten it."
Interviews with Chavez and all other seasonal workers were conducted in Spanish and then translated.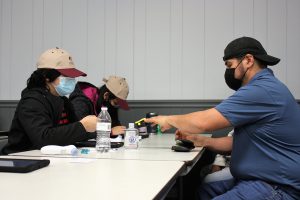 Grateful to have access 
At the orchard where Chavez works, he's one of about two dozen farmworkers from Oaxaca, Mexico, with temporary H-2A work visas. Chavez said he doesn't know anyone back home who has received the vaccine yet, and without his visa, he wouldn't be vaccinated right now.
The agricultural workforce in the U.S. is largely Latino — a population that has been disproportionately hurt by the pandemic. More than half of all seasonal farmworkers hired in the U.S. come from Mexico, which has the world's third-highest COVID-19 death toll and has experienced an even slower rollout of the vaccine with only about 2% of the population currently vaccinated, compared to 25% in the U.S. 
"We have the fortune to come work through a visa and have a government that cares about the people that come to work in the fields," said Jorge Feria, 34, a guest worker from Oaxaca. "We are very grateful."
Jose Martinez was relieved that the jab in his left arm didn't hurt at all.
Martinez is originally from Mexico and settled in Cobden more than 30 years ago. He works seasonally as a forklift operator at a nearby farm. Most of his family in southern Illinois — including his wife, brother and nephew — are also agricultural workers and have all been vaccinated. It's a relief to Martinez, who recently lost his cousin to COVID-19.
His parents, though, are still in Mexico.
"They still haven't [gotten vaccinated]," he said. "In Mexico, it's much harder to get it."
In Mexico, health care workers are first in line for the vaccine, but many are still waiting to get it, said Carlos Leonardo Magis Rodríguez, a professor of medicine and a public health researcher at the National Autonomous University of Mexico. 
"The real problem is that we don't have enough vaccines," he said.
Slow shipments of doses from companies including Pfizer Inc. have delayed Mexico's vaccination rollout plan. Attempting to fill the gap, Mexico secured initial doses of Russia's Sputnik V and China's Sinovac vaccines — neither of which are officially authorized by the U.S. government. President Joe Biden recently rejected a request by Mexican President Andres Manuel Lopez Obrador to share the U.S. vaccine supply, saying his top priority was "getting jabs in the arms" of Americans.
Due to Mexico's largely age-based vaccine rollout plan, Magis Rodríguez predicts 20- to 30-year-olds won't become eligible until next January. 
That means many visa-holding farmworkers are getting vaccinated in the U.S. almost a full year ahead of their peers back in Mexico.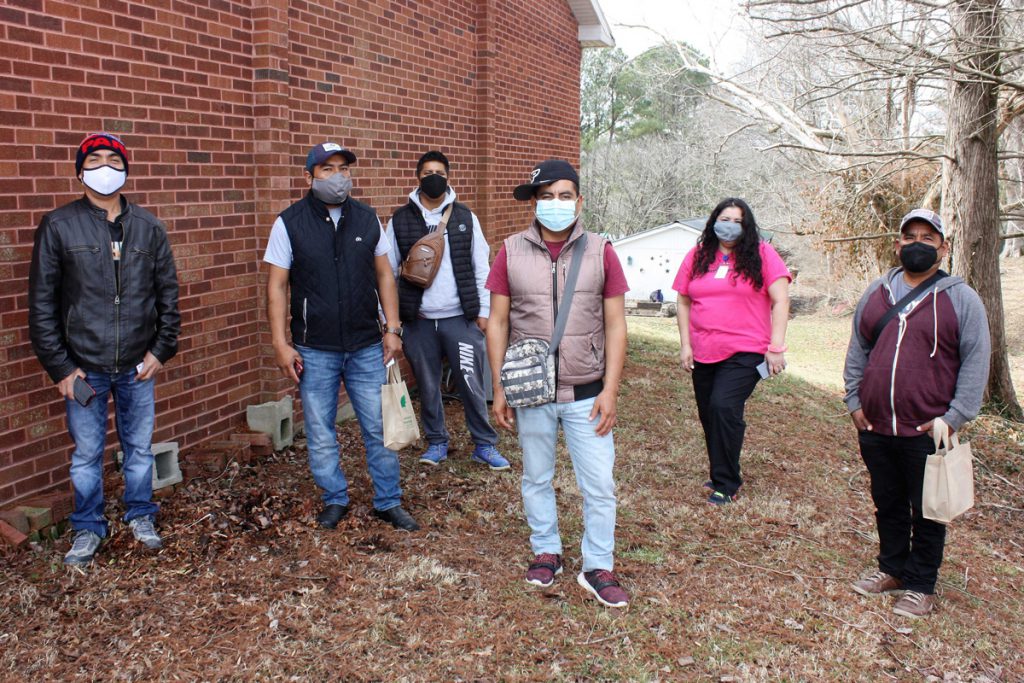 The case for prioritizing farmworkers
About half of all farmworkers hired in the U.S. lack work authorization, according to the most recent National Agricultural Workers Survey. That's led some to question whether they should be prioritized for the coronavirus vaccine.
In a document published in January, the Biden administration outlined a vaccination strategy that aims to ensure everyone can receive the coronavirus vaccine once they're eligible, regardless of immigration status — a stance that some Republican members of Congress have criticized.
But public health experts have pushed back, saying that vaccinating people regardless of immigration status is good public health practice.
"It has obviously been a long-standing public health principle that infection anywhere affects the health of everyone," said Dr. Georges Benjamin, executive director of the American Public Health Association, in an interview with Kaiser Health News and Politifact. "It is also of the highest ethical standards to make sure everybody gets vaccinated and gets treated for infectious disease."
And as the past year of COVID-19 outbreaks at farms and food processing centers illustrates, agricultural workers are a vulnerable population, said Dr. Laszlo Madaras, chief medical officer of the nonprofit Migrant Clinician Network. 
Farmworkers are the backbone of the U.S. food system and were deemed essential at the start of the pandemic, but many live and work in crowded settings that put them at greater risk of contracting the virus. Many farmworkers are based in rural areas and lack access to transportation to get to coronavirus testing sites and doctors' appointments if they fall ill. 
For these reasons, he said, it's important that farmworkers be prioritized for the vaccine.
"[They're] an essential workforce that we need to take care of," Madaras said.
Building trust and dispelling myths
Because of the many barriers to health care farmworkers face, Madaras said significant efforts are required to ensure they have equitable access to COVID-19 vaccines.
"It is a challenge to get the farmworkers in line — literally in line — to get the vaccine," he said.
That's why pop-up vaccination clinics, like the one held in Cobden, are critical, he said. Similar efforts were pioneered earlier this year in some California counties.
Getting the workers themselves to show up is a challenge of its own, said Grathler. She said some come in with a lack of understanding about how the vaccine works.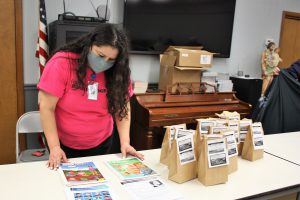 "We present information about the vaccines, how they work in the body, what kinds of vaccines we have… and then what to expect after receiving the vaccine so they can identify a high fever [and] chills," Grathler said.
She's established relationships with local landowners and growers over the years, which has helped her forge connections with their workers. In the weeks leading up to the event, she spent hours on the phone calling farmworkers from the area, answering their questions about the vaccine and signing them up for the clinic.
The day before the pop-up clinic, Grathler hosted a vaccine information session at the orchard where 22 farmworkers had just arrived from Mexico. Many of them recall hearing misinformation and conspiracy theories about the vaccine in their home country.
"Like that the government is against the people and is inserting the virus in our bodies," said Eleazar Chavez, a newly arrived H-2A worker from Mexico.
Grathler said, in the end, every single one of them signed up and came to get the shot the next day. That includes one worker who initially said he would pass on the opportunity because he'd heard the vaccine contains the live virus and could damage his brain.
"[Getting] the facts about the vaccine from trusted sources helped change his mind," Grathler said. Learning that many frontline healthcare workers had already gotten the vaccine also helped put some of the workers at ease. 
Grathler estimates that the vast majority of the 248 people who were vaccinated at the first pop-up clinic event were Spanish speakers and farmworkers from the area.
She plans to continue hosting information sessions and coordinating vaccination clinics for newly arrived farmworkers throughout the year. And she's hopeful the 2021 season will be much safer for it.
This story was produced by Harvest Public Media and Side Effects Public Media in collaboration with the Midwest Center for Investigative Reporting.
Dana and Christine are reporters with Illinois Newsroom. Follow them on Twitter: @DanaHCronin and @CTHerman
Copyright 2021 Harvest Public Media. To see more, visit
Harvest Public Media
.